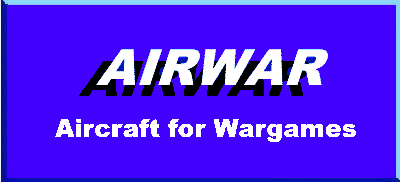 104 Storforth Lane Chesterfield Derbyshire S41 0QA England
Manufacturers of model aircraft, for wargaming. Realistic models, modern and past, accurate and detailed.
This website should be considered as a virtual catalogue only, we are not set up for e-commerce or on-line ordering. All purchase are via mail order or colect from our premises (by prior arrangement). All models are manufactured in our own workshop, here in the UK
Click on text to view page
World War II 1/100 Scale........ World War II 1/200 Scale.. ......World War II 1/300 Scale
Modern Military 1/100 Scale.. Modern Military 1/200 Scale....Modern Miliary 1/300 Scale
CDC Armour 1/100 scale die-cast aircraft now half price, click here for full list details.
This site is under construction, pictures of listed models will a be uploaded as soon as we have them. Please check back regularly or email us for information

Electronic mail
E-mail your requirements to: orders@airwar.freeservers.com
and we will send you ordering information and availability by return.